Sale price
$283.99
Regular price
$0.00
Unit price
per
The flagship systemic concentrated liquid formulation.
Removes unwanted weeds for a year or longer with a single treatment
No restrictions on water use after application
Ideal formulation for waterbodies with minimal water flow
Sonar® A.S.
Regular price
From $283.99
Sale price
$283.99
Regular price
$0.00
Unit price
per
View full details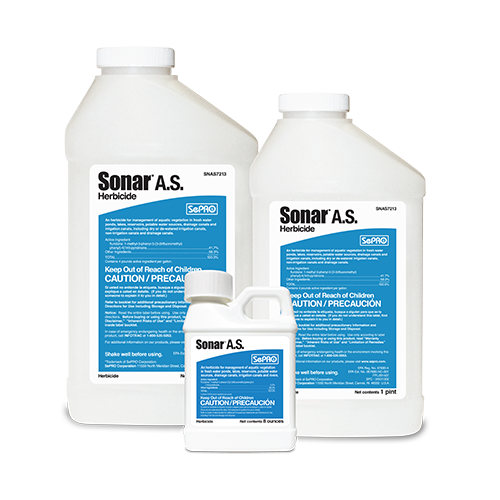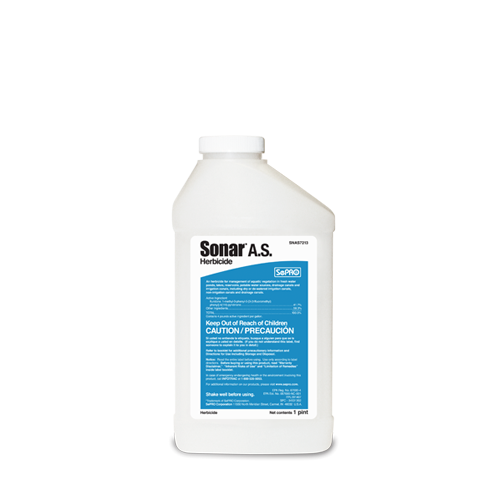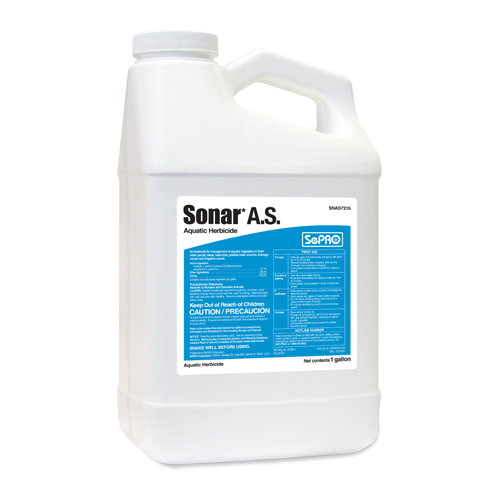 Shipping policy
Free shipping on orders totaling more than $150. For orders less than $150, please add $12.00 for shipping costs. Please provide a physical address, we cannot ship to a P.O. Box. All shipments are made via FedEx Ground or UPS Ground. Please call toll-free
1-866-869-8521
for more information.
Disclaimer
Some states have special restrictions on the use of aquatic herbicides and algaecides. Therefore, Sonar, Renovate 3, Captain, AquaPro and Nautique cannot be sold through SePRO's direct consumer business in AK, CA, CT, ME, NJ, NY and WA. Revive, SePRO Blue and Natural Reflection can be sold in these states. Consult with appropriate state or local water authorities before applying these products. Some states may require an aquatic permit, notification prior to application, or have other conditions of use for aquatic products. VISA, MasterCard, Discover and American Express cards accepted. SePRO Corporation reserves the right, to be exercised at its sole discretion, to revise prices, limit quantities and correct pricing errors. Special offers and/or discounts are valid only at the time of order. Customer is responsible for collection fees, court costs and reasonable attorney fees to collect an unpaid account.
Overview

WHERE TO APPLY

Use as a full waterbody solution for 99.99% of all weed types.

Lakes, Backyard Ponds, Farm Ponds, Fire Ponds, Retention Ponds, & Lagoons
Explore

Key Features

Sonar A.S. (Aqueous Solution) delivers results with a simple, one-time application, allowing you to easily treat nuisance weeds. With a liquid formulation that spreads throughout the water body, Sonar A.S. is designed for whole pond or lake treatment.
Immediate absorption into the target plants
The most efficient concentration level
Ideal formulation for waterbodies with minimal water flow
Sonar will remove unwanted weeds from your lake or pond for a year or longer with a single treatment. No other aquatic herbicide on the planet is more effective on duckweed, period. Unlike other aquatic herbicides, Sonar has no restrictions on water use after application. Swimmers can still swim. Fisherman can still fish. Livestock can still drink. Check the label for irrigation precautions.

Seasons of Usage

Spring
Summer
Fall
Winter

Where to Use

Lakes, Backyard Ponds, Farm Ponds, Fire Ponds, Retention Ponds, & Lagoons

When to Use

Apply at the first signs of new weed growth or when weeds are actively growing

Shipping Restrictions

Cannot ship to WA, NY, NJ, ME, CT, CA or AK

Area Coverage

Apply 1 quart per surface acre (with a 4-6ft average depth).

Labels

Safety Data Sheet
How to Use

Step 1

Fill a 5-gallon bucket or sprayer add 1 to 2 gallons of water and then add the appropriate amount of concentrate.

Step 2

Spray out of the sprayer or pour directly out of a bucket and mix the product directly into the water. Continue to apply the solution in multiple locations until empty.

See label for complete use directions.