Sale price
$85.99
Regular price
$0.00
Unit price
per
Prevent tough submersed weeds with this effective granular formulation.
Apply early-season to prevent weeds from ever becoming a problem
Apply in-season to remove nuisance aquatic weeds
Systemic, complete kill including the roots
Easy-to-apply granular formulation
SePRO Total Pond - Prevent® 3 Pound Pail
Sale price
$85.99
Regular price
$0.00
Unit price
per
View full details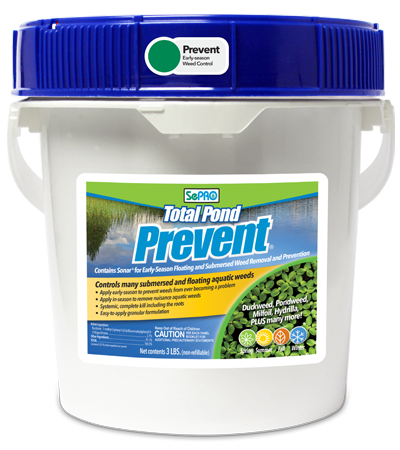 Shipping policy
Free shipping on orders totaling more than $150. For orders less than $150, please add $12.00 for shipping costs. Please provide a physical address, we cannot ship to a P.O. Box. All shipments are made via FedEx Ground or UPS Ground. Please call toll-free
1-866-869-8521
for more information.
Disclaimer
Some states have special restrictions on the use of aquatic herbicides and algaecides. Therefore, Sonar, Renovate 3, Captain, AquaPro and Nautique cannot be sold through SePRO's direct consumer business in AK, CA, CT, ME, NJ, NY and WA. Revive, SePRO Blue and Natural Reflection can be sold in these states. Consult with appropriate state or local water authorities before applying these products. Some states may require an aquatic permit, notification prior to application, or have other conditions of use for aquatic products. VISA, MasterCard, Discover and American Express cards accepted. SePRO Corporation reserves the right, to be exercised at its sole discretion, to revise prices, limit quantities and correct pricing errors. Special offers and/or discounts are valid only at the time of order. Customer is responsible for collection fees, court costs and reasonable attorney fees to collect an unpaid account.
Overview

WHEN TO APPLY

Apply when weeds are actively growing.
Explore

When to Use

Apply when weeds are actively growing.

Shipping Restrictions

Cannot ship to WA, RI, PR, NY, NJ, ME, HI, CT, CA or AK

Safety Data Sheet